Apostles Paul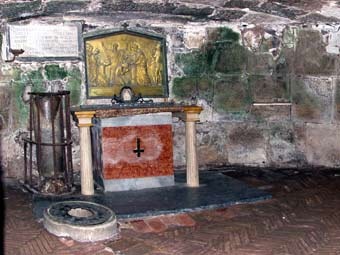 นักวิทยาศาสตร์ ใช้แสงเลเซอร์ในการทำความสะอาดภาพเขียนโบราณที่ค้นพบในทางเดินใต้ดิน (หรืออาจจะเป็นคุก) ของกรุงโรม เปิดเผยให้เห็นใบหน้าของอัครสาวก ของพระเยซู ที่เก่าแก่ที่สุด ได้แก่ นักบุญ พอล และ ปอล ที่เขียนขึ้นประมาณ คริสศตวรรษที่ 4
แสงเลเซอร์ช่วยกำจัดแคลเซียมที่อยู่บนภาพออกไปโดยที่ไม่ทำอันตรายแต่เนื้อสีที่ใช้วาด
นอกจากนั้นยังเป็นการยืนยันความเชื่อที่ว่านักบุญทั้งสองถูกขังไว้ในคุกก่อนที่จะมีการประหารชีวิต โดยการตรึงกางเขนโดยเอาหัวลงพื้น
Earliest icons of apostles found in Rome

The earliest known icons of the Apostles Peter and Paul have been discovered in a catacomb in Rome, RIA Novosti reported Tuesday. According to the head of the group of archeologists Fabrizio Visconti the icons date back to the end of the 6th century.


The images were discovered on the ceiling of a tomb that also includes the earliest known images of the apostles John and Andrew.


The paintings adorn what is believed to be the tomb of a Roman noblewoman in the Santa Tecla catacomb and represent some of the earliest evidence of devotion to the apostles in early Christianity.